Important factors to consider during your Optional Practical Training (OPT) employment
Colleges and universities in the United States attract over a million students annually from all over the world. Optional Practical Training (OPT) allows these students to acquire valuable practical experience and apply their education and training in the U.S.
Ensuring international graduates have access to OPT is essential in attracting, educating, and retaining skilled individuals from different parts of the world. OPT program enables F-1 visa holders who are international students studying in the United States temporarily to participate in temporary employment related to their field of study. This program usually covers up to 12 months of employment for eligible students, either during or after their studies, including pre-completion OPT and post-completion OPT.
When participating in the OPT employment program, it is essential to consider several critical aspects of the program to ensure compliance with applicable regulations. For instance, it is important to be mindful of the duration of OPT employment, as the program typically allows for a maximum of 12 months of employment authorization. Employers must also adhere to specific requirements set forth by the program and comply with applicable labor and immigration laws. In addition, it is important to understand the tax implications of participating in OPT employment, including federal and state tax obligations. By considering these factors and ensuring compliance with relevant regulations, participants can make the most of their OPT employment opportunities and avoid potential legal issues.
This article will cover the process of applying for OPT and highlight key factors that applicants should keep in mind.
The Key for International Graduates to Gain U.S. Work Experience Despite Limited Immigration Options
International graduates face significant challenges in obtaining a green card to live and work permanently in the U.S.
The F-1 student visa does not allow for "dual intent," which means that immigrants cannot enter the U.S. on an F-1 visa to study and also intend to move to the U.S. permanently.
Instead, they must apply for a different visa after completing their studies. After the expiration of their F-1 status, graduates have the option to search for an employer who can sponsor them for a green card or a temporary skilled work visa, such as an H-1B or O-1.
When it comes to H-1B, extensive backlogs make it very challenging, even when employers are willing to sponsor someone for a green card right out of college.
The O-1 visa is a great option for individuals who have demonstrated extraordinary ability or achievement in their field of expertise. To qualify for this visa, applicants must fulfill specific criteria related to their contributions to their field. For F-1 visa holders, the O-1 visa offers a means to continue working in the United States after completing their studies. It may also serve as a pathway to permanent residency for eligible applicants. It is essential to note that the application process for the O-1 visa can be complicated and requires extensive documentation. As such, seeking guidance from an immigration expert is crucial in determining the viability of this option and receiving support throughout the application process.
OPT, however, provides a valuable opportunity for international students to develop their skills while determining their future immigration options.
OPT enables international students who have graduated from a U.S. college or university to maintain their F-1 student status and work for an American employer in their study area.
Students from any field can apply for 12 months of "post-completion" OPT, while those with a science, technology, engineering, or math (STEM) degree can receive an additional 2-year "STEM extension" for a total of 36 months.
Although OPT employment does not offer a direct pathway to permanent residency, it can still benefit international graduates as it provides valuable experience and time to explore other limited options for obtaining permanent residence.According to the numbers released by ICE, around 160,000 OPT initial and renewal work authorization applications were approved in 2021, with slightly over 115,000 being post-completion OPT and just over 61,000 being STEM extension OPT.
Types of OPT – Optional Practical Training To be eligible for OPT.
The work must be related to the student's major area of study. F-1 students have three potential ways to qualify for OPT: pre-completion, post-completion, and a STEM OPT extension
Pre-Completion OPT
According to the Student and Exchange Visitor Program (SEVP) of the U.S. Immigration and Customs Enforcement (ICE), to be eligible for pre-completion OPT, a person must first be enrolled full-time for an entire academic year at a college, university, conservatory, or seminary that can enroll F-1 students.
It is worth noting that the eligibility for pre-completion OPT is not limited to those who have maintained F-1 status throughout the entire academic year. The individual can be eligible for pre-completion OPT even if they held a nonimmigrant status other than F-1 during part of that academic year, as long as they were engaged in studies during that time.
Once authorized for pre-completion OPT, a person can work part-time for up to 20 hours per week while school is in session and full-time during breaks.
As long as the student has completed a full academic year of study at a certified institution and fulfills other requirements, they are qualified to apply for pre-completion OPT.
Post-Completion OPT: after finishing studies, the individual can request permission to participate in post-completion OPT
If your request is approved, you can work part-time (minimum of 20 hours per week) or full-time.
If a student has completed pre-completion OPT, the amount of time they can engage in full-time OPT will be reduced based on the pre-completion OPT they participated in. Any time spent in pre-completion OPT will be subtracted from the total 12-month period of authorized OPT.
If they had 1 year of part-time pre-completion OPT, the reduction would be 50% of the previously authorized year. In this scenario, they would only be entitled to a remaining period of 6 months full-time post-completion OPT employment authorization.
In contrast, the reduction would be 100% of the previously authorized year if they had full-time pre-completion OPT. In other words, if they already had a full year of full-time (40 hours per week) pre-completion OPT, they would not be entitled to any period of post-completion OPT.
Graduates of a certified academic institution may apply for post-completion OPT, and they are not limited to any specific number of work hours. However, the employment must be based at least on 20 hours of work per week.
If the student's number of hours drops below 20 hours or if the student becomes unemployed, it may impact OPT. A student on post-completion OPT can be unemployed for a total of 90 days. OPT will be terminated if the student incurs over 90 days of unemployment.
It is also essential to understand that if a student's immigration status changes from F-1 to a green card, it will not impact their eligibility for OPT. The student's OPT terms will remain the same, based on their education level and previous OPT participation.
STEM OPT Extension
Graduates who have completed their studies in select science, technology, engineering, and math (STEM) fields can apply for an additional 24 months of OPT employment authorization document.
This will give them a total of 36 months of OPT. However, to qualify for this extension, specific requirements must be met.
Firstly, the student must have completed a degree in a STEM field from a certified academic institution. Qualifying STEM degree must be at the bachelor's, master's, or doctoral level.
Secondly, the employer must be enrolled in the U.S. Citizenship and Immigration Services (USCIS) E-Verify program, an internet-based system verifying an employee's eligibility to work in the United States.
Additionally, you must have received an initial grant of employment authorization based on your STEM degree.
Finally, the student must also maintain valid F-1 visa status and be engaged in a paid job related to their field of study for at least 20 hours per week.
Once these requirements are met, the student can apply for the STEM OPT extension within 90 days of their post-completion OPT expiration date.
The STEM OPT extension provides an excellent opportunity for STEM graduates to gain valuable work experience and develop skills while employed in their chosen fields.
OPT Eligibility
F-1 students who have maintained valid F-1 status for at least 9 months may apply to USCIS for up to 12 months of OPT work authorization.
To be eligible, students must have enrolled full-time for at least 1 academic year in the U.S. and be physically present when applying online or by mail.
There are specific timing considerations for applying for OPT.
Students can file for OPT up to 90 days before the program ends on their Form I-20 (Certificate for Eligibility for Nonimmigrant Students Status) and no later than 60 days after the program ends.
Most students are eligible to apply for post-completion OPT at each higher degree level, but OPT can only be used once per higher degree level.
It's important to note that OPT must be used immediately after graduation and cannot be saved for a later time.
It's also important to remember that students cannot begin working under OPT until they receive their Employment Authorization Document (EAD) card.
The OPT Application Process
To request Optional Practical Training (OPT), a student must complete the necessary application process, which includes:
Request that your designated school official (DSO) recommend you for OPT.
Your DSO will endorse your Form I-20 and make the appropriate notation in the Student and Exchange Visitor Information System (SEVIS).
Prepare and gather all required application materials, including Form I-765, Application for Employment Authorization.
Submit your application to USCIS, either online or by mail, with the required fee and supporting documentation.
Wait for USCIS to process your application and issue an Employment Authorization Document (EAD) work card.
You cannot begin work on OPT until you receive the EAD work card and the card's validity period has begun.
OPT Application Based on STEM Degree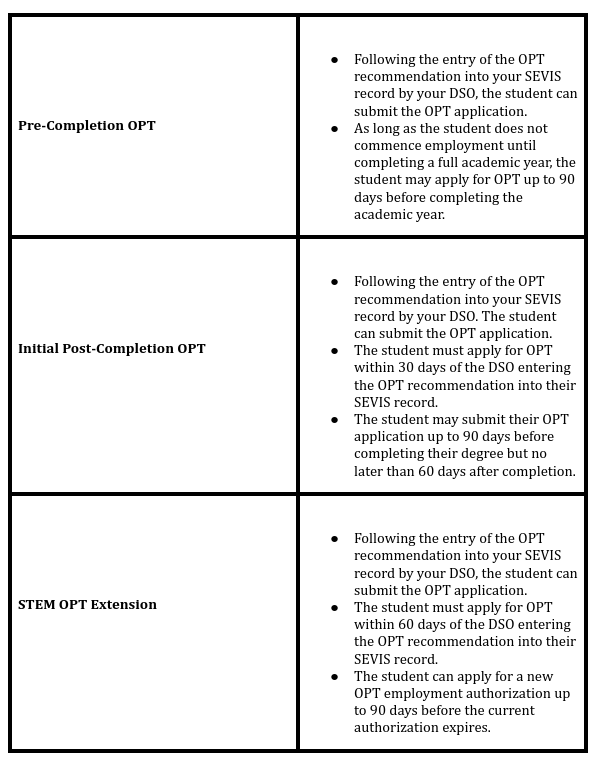 OPT Application Based on Non-STEM Degree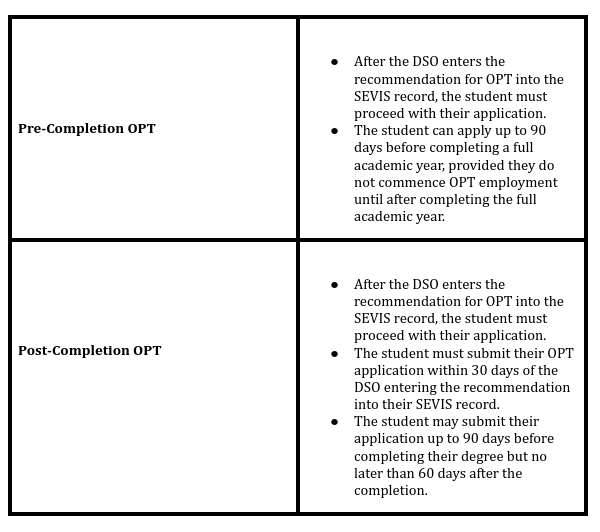 The applicant can only initiate the OPT after the approval of their Form I-765 and the receipt of their Employment Authorization Document (EAD).
Suppose the applicant submits their extension application on time, and their OPT period expires while the extension application is still being processed. In that case, their employment authorization will be automatically extended for 180 days.
However, this automatic extension will cease as soon as USCIS decides on its STEM OPT extension application.
Great News – Premium Processing is now available for OPT and Extensions of OPT
The USCIS announced on March 6, 2023, that premium processing would be extended to particular F-1 students who have already filed Form I-765, an Application for Employment Authorization. This extension applies to students filing under the categories of Pre-Completion OPT, Post-Completion OPT, and the 24-Month STEM OPT extensions.
The immigration process for numerous international students will be made more efficient by combining two factors: the option of premium processing for specific F-1 students and the convenience of filing applications online.
To submit Form I-907 electronically, the applicant must establish a USCIS online account, which offers a secure and user-friendly approach for submitting forms, paying fees, and monitoring the progress of any pending applications.
Key Factors to Consider During OPT Employment
During OPT employment, there are specific employer requirements to be aware of and employee rights related to compensation, work hours, and job duties. Understanding the tax implications of OPT income and the requirements for health insurance coverage is essential.
OPT employment is subject to labor and immigration laws, so familiarity with these regulations is crucial to ensure a successful and compliant experience.
Duration
The duration of the OPT program depends on the student's major and eligibility. Generally, students are allowed to participate in OPT for a total of 12 months, which can be used either during their academic program or after graduation. However, for students in certain STEM (Science, Technology, Engineering, and Mathematics) fields, an additional 24 months of OPT can be granted. It is essential to note that the total duration of OPT cannot exceed 36 months, including the initial 12-month period and any subsequent STEM OPT extensions.
Employer's Responsibility
Employers have certain responsibilities in tracking STEM OPT students and their practical training progress. These include:
Enrolling in the E-Verify program
Providing compensation that is equivalent to that of a U.S. citizen with the same credentials in a similar position
Reviewing and signing off on the student's I-983 training plan, including any changes to the plan
Reviewing and signing off on the student's self-evaluations, which must be completed at the mid-point and end of employment
Notifying OIA within five business days if the student's employment is terminated before the end of the authorized OPT extension period
Allowing for possible site visits by the Dept. of Homeland Security to confirm the student is following the training plan
Employers need to understand and comply with these responsibilities to ensure a successful STEM OPT program for both the student and the employer.
OPT, and Unemployment Limits
After your Optional Practical Training (OPT) application is approved, your F-1 status and permission to work during post-completion OPT are contingent on being employed.
For those with a 12-month OPT period, there is a cumulative limit of 90 days of unemployment. If this limit is exceeded, the work authorization can be terminated, and the F-1 OPT status ends. If this happens, the student must leave the United States or adjust their status immediately.
The SEVIS immigration record calculates the unemployment periods automatically, so keeping the employment information current and precise is crucial to fulfilling the required OPT reporting.
To be eligible for employment during OPT, the main requirements are that the work is related to the student's field of study and that they work at least 20 hours per week, considered full-time by the U.S. government.
It's worth noting that the work doesn't necessarily have to be paid, and there's no limit to the number of appropriate training activities to reach the 20-hour minimum.
This means that volunteer and internship opportunities and part-time or temporary positions may qualify as employment for OPT reporting purposes. Other types of work, such as self-employment or employment through an agency or consulting firm, may also be appropriate.
There are several criteria to assess whether an internship is a legitimate unpaid internship in accordance with the DOL regulations, including but not limited to: whether it is akin to training; it is designed for the gain of the intern; the intern does not displace regular personnel but works under the supervision of existing staff.
However, employment during STEM OPT must be paid a. Unpaid internships, volunteering, community service work, and unpaid research are not valid employment types on STEM OPT.
These alternative arrangements can be beneficial if you're trying to avoid exceeding the 90-day unemployment limit while searching for other jobs in the U.S.
Taxes, Social Security, and Medicare
STEM OPT students are typically exempt from Social Security and Medicare contributions (FICA withholdings) for the first five calendar years they hold F-1 nonimmigrant status. As long as you meet the requirements of your F-1 visa and have not already held F-1 status for parts of five calendar years, you will not be considered a resident for federal tax purposes while participating in STEM OPT.
Conclusion
This article has given a comprehensive overview of the OPT application procedure, emphasizing the importance of paying attention to details and keeping track of deadlines. While the process may seem daunting, the benefits of securing an OPT employment opportunity are immeasurable.
The experience gained while working in the United States for a year can provide significant advantages in one's future career, both domestically and internationally. Therefore, it is crucial to follow the application process diligently to reap the rewards of this opportunity.
If you would like to discuss your immigration situation, brainstorm, or better understand how we can assist you, please write here.
* This article is for informational purposes only and does not provide direct legal advice.
FAQ:
How does OPT employment work for international students, and what is it exactly?

OPT employment, or Optional Practical Training employment, is a program that allows international students who have completed their degree to work in the United States for up to 12 months (or 24 months for STEM graduates) in a field related to their area of study. OPT is intended to provide international students with practical work experience that complements their academic learning. It is an essential pathway for those who wish to gain employment in the United States after graduation. To be eligible for OPT, students must be in F-1 status and have completed at least one academic year of study. During OPT, international students are subject to specific reporting requirements and must maintain their F-1 status by meeting specific criteria related to employment and unemployment periods.

What conditions must be met to be eligible for OPT application?

To qualify for OPT, a student must be enrolled full-time in a degree program at a U.S. institution for at least one academic year, maintain valid F-1 status, and intend to work in a field related to their major area of study. The student must also apply for OPT within 90 days before or 60 days after completing their degree requirements. Moreover, the student must complete the OPT application process, which includes obtaining a recommendation from their Designated School Official (DSO) and submitting the required forms and fees to the United States Citizenship and Immigration Services (USCIS).

What is the difference between the various forms of OPT?

Pre-completion OPT allows students to work part-time (up to 20 hours per week) while school is in session and full-time during scheduled breaks. Students must have completed at least one full academic year of study and have a job offer to apply for pre-completion OPT. Post-completion OPT, on the other hand, allows students to work full-time after completing their degree program. Students can apply for post-completion OPT up to 90 days before completing their program and up to 60 days after. The duration of post-completion OPT is usually 12 months. Still, students who graduate with a degree in a Science, Technology, Engineering, or Mathematics (STEM) field may be eligible for a 24-month extension.

How do F-1 visa holders benefit from OPT employment, and what challenges may they face?

OPT employment provides F-1 visa holders an opportunity to gain practical work experience in the United States in a field related to their major area of study. This experience can enhance their resume and increase their chances of finding employment in the U.S. after graduation. OPT employment also allows F-1 students to earn money to support themselves during and after their studies. However, OPT employment also comes with some challenges. The primary challenge is the requirement to maintain active employment. Suppose an F-1 student is unemployed for over 90 cumulative days during their OPT period. In that case, their work permit will be terminated, and they will have to leave the U.S. This requirement can be stressful and challenging, particularly in a difficult job market. Additionally, OPT employment does not guarantee long-term work authorization in the U.S., so F-1 students may need to explore other visa options or return to their home country after their OPT period ends.

How does OPT employment impact the tax situation of F-1 visa holders?

The tax implications of OPT employment depend on several factors, such as the type of work, the duration of employment, and the individual's tax residency status. F-1 students who are non-residents for tax purposes are generally exempt from Social Security and Medicare taxes (FICA) for up to five years.