US President Donald Trump this morning announced that he would be temporarily banning immigration to the US.
The President took to twitter to write a lone tweet which read: "In light of the attack from the Invisible Enemy, as well as the need to protect the jobs of our GREAT American Citizens, I will be signing an Executive Order to temporarily suspend immigration into the United States!"
The post has generated instant uncertainty as his claim has taken the world by surprise as his tweet appeared on a day in which he claimed that many areas hardest hit by the virus had "turned the corner."
According to Robert O'Brien, the national security adviser, the president is trying to do everything he can to put the health of the American people first during this crisis. "It's not dissimilar to the restrictions on travel from China that he implemented back on January 29 at the very outset of this public health crisis."
Whitehouse officials also stated that this was a measure taken to curb unemployment inside the country.
What was the problem we the Tweet?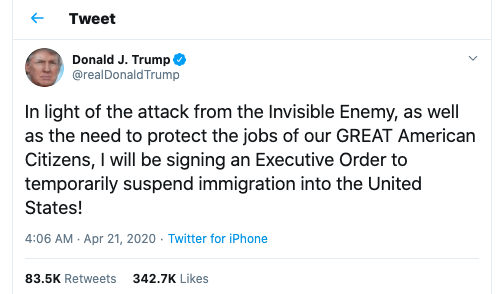 Apart from being just a xenophobic action, the tweet did not clearly state which immigration programs might be affected leaving everyone thinking about what he is really planning to do.
The abrupt move has also provoked fierce criticism from immigration rights groups. Andrea Flores, deputy policy director of the American Civil Liberties Union's equality division, said: "Unfortunately, President Trump seems more interested in fanning anti-immigrant flames than in saving lives. We cannot allow President Trump to exploit this pandemic to advance his racism and xenophobia."
Congressman Joaquín Castro of Texas, the chairman of the Congressional Hispanic Caucus, added: "This action is not only an attempt to divert attention away from Trump's failure to stop the spread of the coronavirus and save lives, but the threatened executive order is also consistent with his anti-immigrant rhetoric – during the 2016 presidential election he floated a "Muslim ban" – and aggressive policy enforcement that saw parents separated from children when they entered the country illegally.
The Ban can hit the Tech sector hard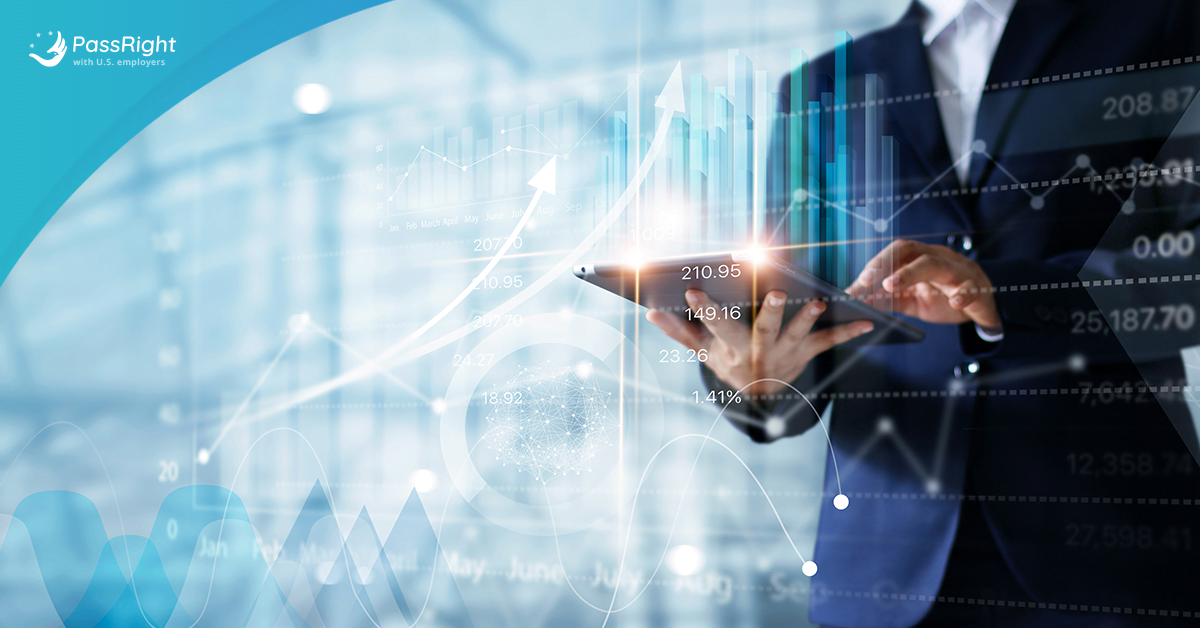 According to experts, the immigration ban could be a big blow on the technology sector, which depends mostly on emigrant experts. Alongside Mexico, China and India now provide large numbers of the new working population.
The Pew Research Center today stated that more than one million immigrants arrive in the US each year, although this figure has fallen in recent years. According to the Research Center, almost half of immigrants live in just three states – New York, Texas and California, home of Silicon Valley, where tech giants such as Google, Facebook and Cisco are based.
Before this announcement was made the US government had been debating how man migrant workers to allow into the country under its seasonal H-2B program. This executive order that temporarily suspends all immigration is not expected to apply to farmworkers and healthcare workers.
For more current information about the US visas contact us
Other Trump's executive orders:
Trump Administration Cancels Visas for International Students