WHAT ARE THE DIFFERENCES BETWEEN EB-1 AND EB-2 VISAS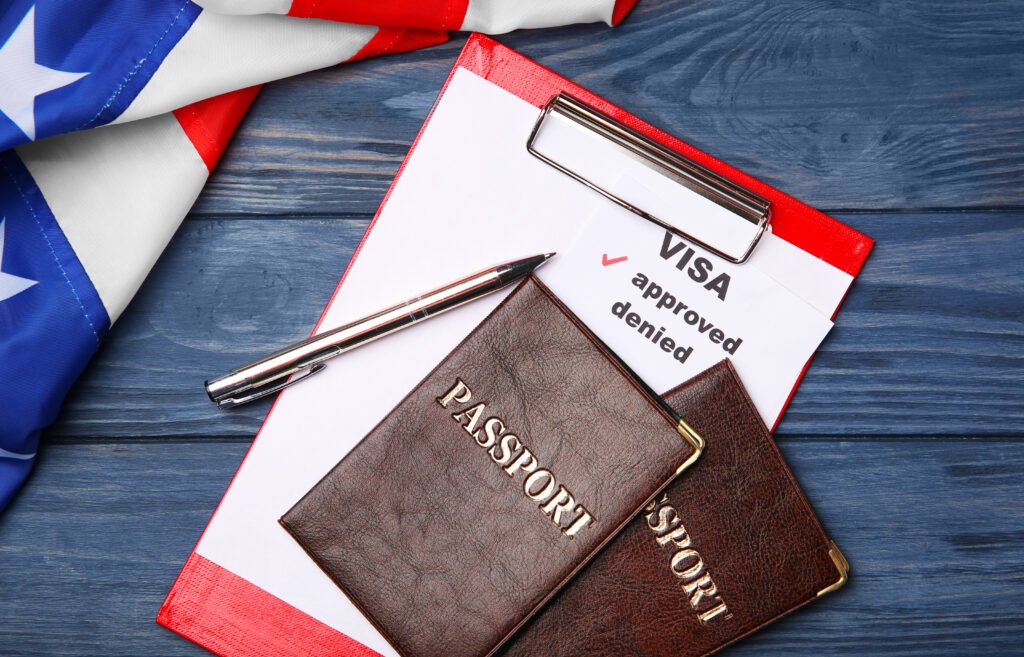 For the majority of foreign nationals seeking a green card, there are two main options: family-based and employment-based visas. For those that do not have a US citizen or legal Permanent Resident immediate family member, family-based visas are either impossible or come with a years-long wait. But seeking an employment-based visa might be the option.
Both EB-1 and EB-2 are employment-based immigrant visas, commonly known as "green cards" to the United States. The EB-1 visa is an employment-based green card available to foreign nationals who demonstrate extraordinary ability in their field, whether the sciences, the arts, education, business, or athletics. Evidence proving extraordinary is by "sustained national or international acclaim." There are no limits to the fields. The EB-2 visa is meant for members of professions holding an advanced degree or equivalent, or "exceptional ability" (expertise significantly above that ordinarily encountered) in sciences, medicine, arts, business, or athletics.
THE EB-1 VISA
The EB-1 category is composed of three sub-groups:
1. EB.1.1 (EB.1. A) Persons of Extraordinary Ability in the sciences, arts, education, business, or athletics. Applicants in this category must have extensive documentation showing sustained national or international acclaim and recognition in the field of expertise. A specific job offer is not required (an individual can file their own petition with the USCIS, rather than go through an employer) so long as the applicant will continue to work in the U.S. in the field in which they have extraordinary ability.
Pursuant to the regulatory requirements, if the individual has received a major, internationally recognized award, for example, Nobel Prize or similar very high-level award for achievement in the field, no further evidence is necessary.
However, in most cases, the EB1.1 petition must be accompanied by more evidence, demonstrating that the individual meets at least three of the criteria outlined in the regulations for this category:
Receipt of prizes or awards for excellence in the field,
Membership in associations that require outstanding achievements of their members,
Published materials about the individual in professional publications or major media,
Participation as a judge of the work of others,
Original contributions of major significance to the field,
Authorship of scholarly articles in the field,
Display of work at exhibitions/showcases,
Serving a leading/critical role for distinguished organizations,
Commanding a high salary (relative to others in the field),
Commercial success.
In addition to meeting three of the criteria above, the individual must be able to show the totality of evidence submitted indicates that they are at the top of their field. This can be shown in a wide variety of ways, such as having a high citation count, being published in leading journals in the field, and evidence that others in the field are utilizing the individual's work.
2. EB.1.2 (EB.1. B) Outstanding Professors and Researchers with at least three years experience in teaching or research, and international recognition. Labor certification (also referred to as PERM) is not required, but the prospective employer must provide a job offer and sign the immigrant petition. The individual needs to meet at least 2 of the six eligibility criteria set by USCIS:
Evidence of received major awards or prizes for outstanding achievement
Evidence of published material in professional publications authored by others about the individual's work in the academic field
Evidence of membership in associations that require records of outstanding achievements from their members
Evidence that the individual participated, either individually or on a panel, as a judge of other people's work in the same or similar academic field
Evidence of authorship of scholarly articles or books (in scholarly journals with international circulation) in the field
Evidence of original scholarly or scientific research contributions in the field
3. EB. 1. 3 (EB.1.C) Multinational Executives and Managers are the third sub-group of the EB-1 category. Qualified persons must have been employed for at least one of three preceding years in an executive or managerial capacity by a U.S. parent, subsidiary, branch, or affiliate of a foreign corporation. Labor certification is not required, but the prospective employer must provide a job offer and file a petition with the USCIS.
THE EB-2 VISA TO THE UNITED STATES
You may be eligible for an employment-based, second preference visa if you are a member of the professions holding an advanced degree or its equivalent, or a foreign national who has exceptional ability. Below are the occupational categories and requirements:
Advanced degree – The job you apply for must require an advanced degree and you must possess such a degree or its foreign equivalent (a baccalaureate or foreign equivalent degree plus 5 years of post-baccalaureate, progressive work experience in the field). You must meet any other requirements specified on the labor certification as applicable.
Exceptional ability – You must be able to show exceptional ability in the sciences, arts, or business. Exceptional ability "means a degree of expertise significantly above that ordinarily encountered in the sciences, arts, or business." You must meet any requirements specified on the labor certification as applicable.
National Interest Waiver (NIW) – Non-citizens seeking a national interest waiver may request that the Labor Certification be waived because it is in the interest of the United States. Though the jobs that qualify for a national interest waiver are not defined by statute, national interest waivers are usually granted to those who have exceptional ability and whose employment in the United States would greatly benefit the nation. Those seeking a national interest waiver may self-petition (they do not need an employer to sponsor them) and may file their labor certification directly with USCIS along with their Form I-140, Petition for Alien Worker.
Criteria for National Interest Waiver are:
The proposed endeavor has both substantial merit and national importance.
You are well-positioned to advance the proposed endeavor.
It would be beneficial to the United States to waive the requirements of a job offer, and thus the labor certification.
ADVANTAGES AND DISADVANTAGES OF CHOOSING EB-1 OR EB-2 VISAS
EB-1
EB-2
PROS
– Does not require an applicant to have a sponsoring employer or job offer;

– Priority date waiting time is usually shorter than for other visas (such as EB-2);

– Available for premium processing;
– The standard for the initial, basic qualifications for the EB-2 NIW is lower than it is to petition for an EB-1 visa;

– Allows petitioners to skip the labor certification process through the national interest waiver;
CONS
– Very difficult to qualify under current law, as this visa is reserved for the top percentile of individuals in a given field and USCIS officers have a large number of discretionary powers over your case.;
– The longer processing time (up to 14 months) and not available for premium processing;
Conclusion:
Both the EB-1A and the EB-2 NIW visas have distinct advantages over employment-based visas that require an applicant to go through the labor certification process. To be approved for either type of visa, you will need to thoroughly document your qualifications.
If you have questions about whether you could be considered someone of "extraordinary ability," consult with our legal team at [email protected]
FAQs
What kind of USA visa do people need to get with extraordinary abilities, professors, and scientists, as well as for managers of multinational companies?

EB-1 Employment-Based Immigrant Visa. It allows certain Multinational Executives and Managers and people with extraordinary abilities in science, art, education, business, or sport to gain legal permanent residence in the US.

Which Green Card Should I Choose?

U.S. immigration law defines numerous narrow categories (there are 8 of them) of people who can be green-card eligible, and you'll need to fit into one of these to apply. Due to the number of categories and different requirements, it may be hard to decide which category is the best for you. We highly encourage you to contact our team at [email protected] to discuss the best option considering your background. Our preliminary evaluation is free of charge!

Can I Apply for Both At the Same Time?

It is possible to file two petitions such as an EB2 NIW and an EB1-A at the same time. There is nothing stated in the law that prohibits multiple filings and the cases should be adjudicated independently.

What kind of US visa do people need to get with an academic degree, art, and science?

EB-2 visas are available to professionals holding advanced university degrees and persons of exceptional ability in the sciences, arts, or business. The law allows foreign nationals to obtain an immigrant visa and green card through employment if they qualify under one of five preference categories.

How much time can the EB-1 visa last without recharging?

Employment-based green cards are valid for a period of ten years. At the end of the validation period, you will need to apply to renew your green card.