COVID-19 Vaccination Required for Green Card Applicants
Starting October 1, 2021, the COVID-19 vaccine is included on the list of vaccines required for applicants to obtain lawful permanent residence, more commonly known as a "green card".
According to the new regulation, Any person who wants to become a permanent resident of the United States (green card holder), needs to present original documentation of having received full vaccination with an approved vaccine against COVID-19 – in addition to the already existing vaccination requirements. This will apply equally to foreign nationals who apply for an immigrant visa abroad or who seek to adjust status to the permanent resident while in the United States.
Thus, to meet the above standard you need to fulfill three criteria:
be fully vaccinated;
the vaccine must be approved by the U.S. government or recognized by the WHO;
present original documentation proving vaccination.
Firstly, according to CDC guidelines, you are considered fully vaccinated:
2 weeks (14 days) after your dose of an accepted single-dose vaccine
2 weeks (14 days) after your second dose of an accepted 2-dose series
2 weeks (14 days) after you received 2 doses of any "mix-and-match" combination of accepted COVID-19 vaccines administered at least 17 days apart
Secondly, the COVID-19 vaccine you have received needs to be authorized for use in the United States or be listed for emergency use by the World Health Organization (WHO). At the moment these are:
Pfizer-BioNTech;
Moderna;
Johnson & Johnson;
AstraZeneca;
Covaxin;
Covishield;
BIBP/Sinopharm;
Sinovac.
Finally, it is crucial to have the vaccination documentation confirming the vaccination procedure. Acceptable evidence includes:
Vaccination certificate with QR code, digital pass via Smartphone application with QR code (e.g. European Union Digital COVID Certificate, United Kingdom National Health Service COVID Pass);
Printout of COVID-19 vaccination record or a COVID-19 vaccination certificate issued at national or subnational level or by an authorized vaccine provider (e.g., the CDC vaccination card);
Digital photos of vaccination card or record downloaded vaccine record or vaccination certificate from the official source (e.g., public health agency, other authorized vaccine providers), or a mobile phone application without QR code (e.g. Republic of India CoWIN app);
Any other documents with:

Personal Identifiers (full name plus at least one other identifier such as date of birth or passport number);
Name of official source issuing the document (e.g., public health agency, government agency, or other authorized vaccine providers);
Vaccine manufacturer and date(s) of vaccination.
If you don't meet these requirements, you are not considered fully vaccinated, for the purpose of a medical examination report customarily known as Form I-693.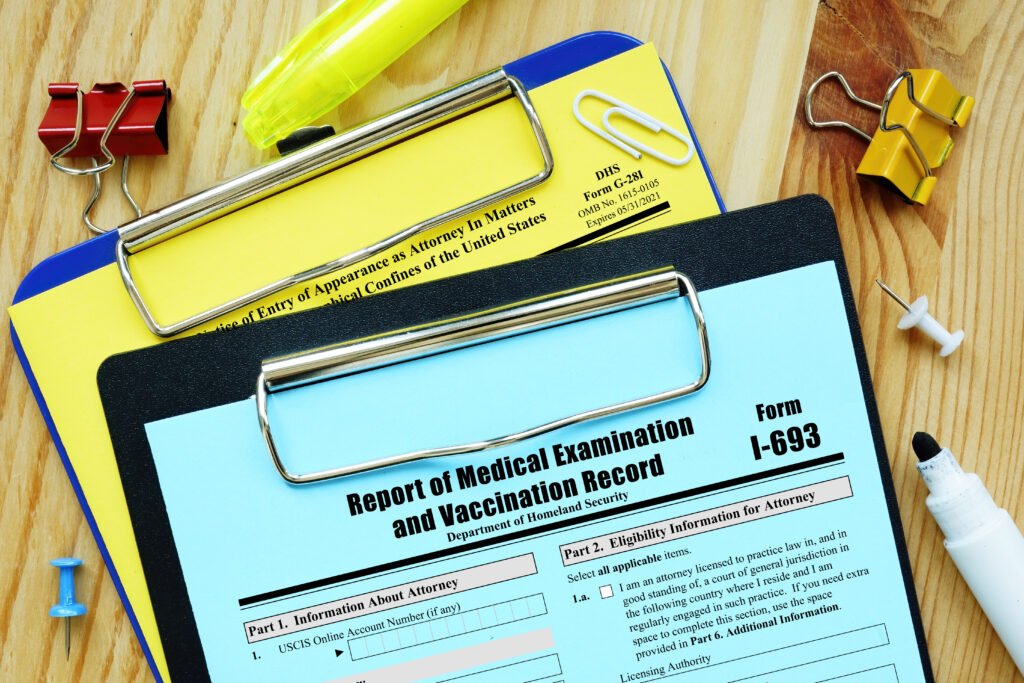 What is Form I-693?
A person who applies for a status of a green card holder needs to be medically examined by the designated civil surgeon. Form I-693 reports results of that examination to U.S. Citizenship and Immigration Services (USCIS). USCIS requires a medical examination to establish which applicants seeking immigration benefits are not inadmissible to the United States on public health grounds.
You must submit a separate Form I-693 for each applicant. There is no filing fee for this form however, the applicant must pay all costs of the medical examination, including the cost of any follow-up tests or treatment that is required.
If you have any medical records, including vaccination records, you need to take them with you to the initial appointment. According to CDC guidance, effective October 1, 2021, the civil surgeon who performs the medical examination, must review documentation confirming that the applicant received all doses of the COVID-19 vaccine.
Moreover, if the COVID-19 vaccine is available, a civil surgeon performing the medical exam can also vaccinate applicants that are partially vaccinated or even unvaccinated. However, the vaccination process may delay the medical exam report, as every applicant must receive all doses of the COVID-19 vaccine before the medical exam can be completed.
You may be waived from the COVID-19 vaccine if it is not medically appropriate:
The vaccine is not recommended for your specific age group;
There is a medical reason why it would not be safe to have the vaccine (for example, you had had Vaccine adverse event to prior vaccines);
You are unable to complete the entire series of a required vaccine within a reasonable amount of time;
COVID-19 vaccine is not routinely available in the state where the civil surgeon practices.
You can also object to required vaccinations because of sincerely held religious beliefs or moral convictions, you may apply for a waiver of these requirements. However, If an applicant refuses one or more doses of a COVID-19 vaccine and is not eligible for a waiver, the civil surgeon will document the vaccine requirements as not complete. As a result, the applicant will likely be deemed inadmissible and ineligible for the "green card".
In the end, the civil surgeon must give you the completed Form I-693 in a sealed envelope for you to submit to USCIS. Do not accept the form from the civil surgeon unless it is in a sealed envelope. USCIS will return your Form I-693 to you if it is not in a sealed envelope or if the envelope is opened or altered in any way. The Form I-693 must be dated no earlier than 60 days before you filed your underlying application. A properly and timely completed Form I-693 remains valid for two years from the date of the civil surgeon's signature.
Conclusion
Depending on the country of your origin, and your medical history the COVID-19 vaccine requirements might be just another formality or major drawback in your application. You also need to remember that not every physician is eligible to conduct the medical exam required for USCIS. Finally, you need to consider that every potential waiver of vaccination is decided individually by the USCIS, and in case of rejection, you are going to be inadmissible on public health grounds.
FAQs
What else must the applicant get vaccinated against to obtain a green card?

Under current law, any applicant is required to receive vaccinations to prevent the following diseases: Diphtheria, Tetanus, Pertussis, Polio, Measles, Mumps, Rubella, Rotavirus, Haemophilus influenzae type b (Hib), Hepatitis A, Hepatitis B, Meningococcal disease, Varicella, Pneumococcal disease, Influenza.

What are the main symptoms after the vaccine?

Side effects may vary for every vaccine, however, the most common side effects are Pain Redness Swelling On the arm where you got the shot, and Tiredness, Headaches, Muscle pain, Chills, Fever, Nausea.

Is it possible to skip the COVID-19 vaccine and yet acquire a green card?

It is possible, but only if the civil surgeon indicates that you may be eligible for blanket waivers for some vaccines but have otherwise completed all other medically appropriate and available vaccination requirements, and USCIS grants you a blanket waiver. As for specific reasons, you need to prove that a vaccine is "not medically appropriate", or you object to required vaccination because of sincerely held religious beliefs or moral convictions.

When I am not eligible for a certificate, what may be the reason?

To receive a certificate you need to be fully vaccinated (one dose for a single-dose vaccine, or two doses for the 2-dose vaccine) with an officially accepted vaccine by the U.S. government.

When I am not eligible for a certificate, what may be the reason?

If you've recently recovered from COVID-19, it may be that you cannot receive a COVID‑19 vaccination for a period of time following your recovery in that case you need to provide a document from a government agency or health authority, certifying that you can't receive the COVID‑19 vaccination for health reasons.