The latest U.S travel ban, which will come into effect from Friday 21, 2020, will affect thousands of families as it threatens to sever family ties.
"My wife is still in Nigeria. I was hoping that this would be the year for us," says Tope Aladele, a US citizen of Nigerian descent. Like him, thousands of US immigrants and citizens have been patiently waiting to reunite with their spouses and children. But this ban has shattered the hopes of many of such families. Unlike travel bans in the past, this latest ban is very specific. So there is no room for possibilities. According to the President of the Minnesota Institute for Nigerian Development, Grace Mobosi-Enwensi, the Nigerian community inside the United States is experiencing a wave of panic, as immigration laws under the Trump administration get gloomier.
Who will the US Travel Ban Affect?
The travel ban this time round has been placed on immigration visas. So, it will not affect citizens of the countries mentioned below who are already inside the United States. It will affect anyone wanting to enter the US on family ties or for work purposes on an immigrant visa type.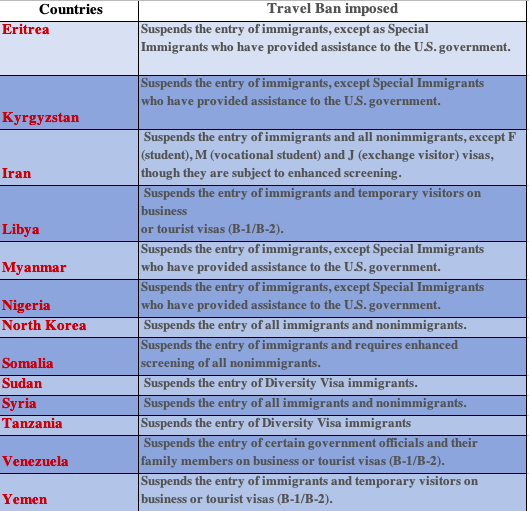 Why Will It Not Affect O-1 Visa Applicants?
Apart from citizens of Iran, Syria and North Korea, nationals from the other countries on the list are eligible to apply for the O-1 Visa. The O-1 Visa does not fall under the immigrant category, anyone wanting to move, live and work in the U.S cannot be exempted to do so by the USCIS on the basis of this ban. As long as the ban does not mention the suspension of non-immigrant visa categories one can still apply for the O-1 Visa and their applications will still be approved as long as they are able to prove that they meet at least 3 of the eight O-1 Visa criteria.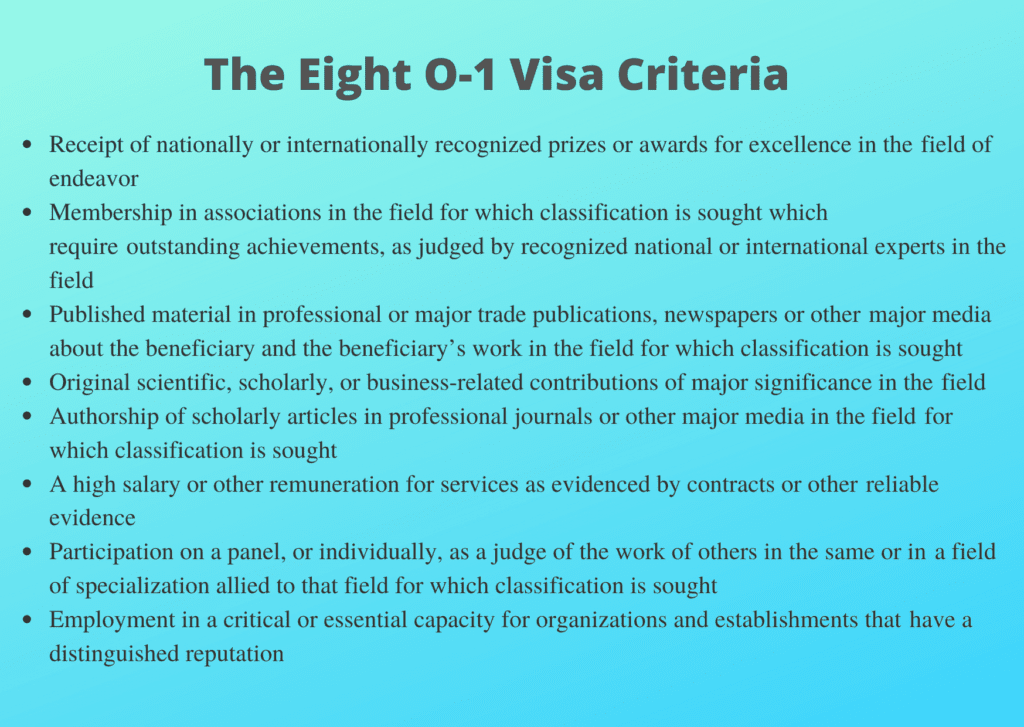 What Should I Know About The O-1 Visa?
The O-1 Visa is a dual intent non-immigrant employment visa for people with extraordinary talents in the field of technology, arts, sport, business, education, or the sciences. It is an employment visa, which means it has to be petitioned by an employer or a talent agency. Unlike other visa categories, there are no limitations to how many times an applicant can file for an O-1 Status. It may be renewed indefinitely as long as their services are required by the employer.
To find out more about the O-1 Visa and how you can apply for it contact us.