Getting a U.S. green card has been a dream of 1+ million foreigners over the last few years and the country has a long history of welcoming immigrants to its borders. If you are wondering about how to apply for a green card for Los Angeles or any other state residency, here is a basic brief on what you need to know prior and right after submitting your green card application.
Green Card and its benefits
A green card is basically a status card that demonstrates that the immigrant is a permanent U.S. resident who can live and work in the U.S. The card was initially named "green card" as the first cards issued by the U.S government were green and even though the appearance and colors of the card has changed numerous times, the card is still widely known as the "green card".
The main benefit of getting a green card is being able to live and work legally in the U.S. Other privileges for getting a green card include:
-Being able to fund other family members who wish to get a Green Card
-Travelling inside and outside U.S. without having to change your status
-Applying for permanent U.S citizenship (after completing 5 years with a green card).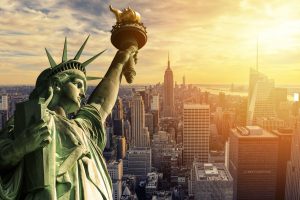 Who is eligible?
In order to qualify for a U.S. green card, you must show proof of sponsorship by a family member who is a permanent U.S resident, a U.S employer or your own business activities, or through obtaining refugee status, asylum status or any other humanitarian right.
Eligible candidates must also fulfill any of the following criteria:
-Should belong in any of the immigrant categories listed in the Immigration and Nationality Act.
-Should own an eligible immigrant petition submitted by themselves.
-Should own an immigrant visa first
-Should be acceptable to the U.S. (show proof of financial support from spouse, should have no serious health problems, should have a clear criminal record, etc).
Immigrant Categories
The current available immigrant categories are family-oriented (having a direct family member who's a permanent resident in the U.S), Job or employment-oriented (getting sponsored by a U.S employer), and based on refugee or asylum status.
The forms vary according to the category of immigrant you belong and the reason for applying for a U.S green card and there are currently more than 12+ forms to fill. The most popular and consolidated form that allows you to apply in multiple categories is the form I-485 which you can file at your local USCIS office. The form is made of several pages and you'll need additional documentation to support your application and show your eligibility.

What is the I-485 processing time? What should I expect next?
The procedure is very complex and takes several months from the moment you submit your application to the moment you finally get accepted and get your green card (or get rejected).
Here are the average I-485 processing times:
Weeks 2-3: Confirmation of the submitted application/receipt. If your application has been received by the USCIS office, you will get a confirmation notice via mail. For forms like G-1145, you may also get a notification via e-mail or text messages on the phone you provided.
Weeks 3-5 (approx.): Biometrics Appointment Notification. A notification will be sent to you via mail for the date and time you'll have to your local Application Support Center in which you'll have to provide your fingerprints, recent photo, and a signature as a proof of your identity
Months 4-10: Interview notification.The next step before the final examination of your application will be to get appointed for an interview if which you'll get asked about your form submission and other additional documents like passports, ids, etc proving your identity. You will receive the date and time of the interview appointment in the mailed notification. In case you are sick or can attend the interview due to a serious reason at that date or time, follow the steps to reschedule for another date/time.
Months 8-14: Mailed notification of acceptance and issue of green card or rejection. If everything was done appropriately and you have fulfilled all the necessary steps, you will get confirmation if your application was accepted and a green card itself soon after. In case your application was rejected, you will be given the reason why e.g insufficient documentation. If you feel there was a mistake or you were unfairly rejected you can file an appeal and a re-examination of your application.
Why Should You Hire an Immigrant Lawyer?
If you read this piece or the info straight from the USCIS website, chances are, you still have questions regarding the procedure. The process of filing a Green Card application is quite complex and tedious. If you don't follow the steps or fill the forms and documentation properly, your application might get rejected and it would be extra difficult afterward to file another application again.
If the process seems a bit confusing to you and you aren't sure if you are eligible or what is the category of Green card you should apply for, you should ideally seek the help of a local immigrant lawyer. An experienced immigration lawyer in Los Angeles or any other area near you will provide guidance on how you can fill your application properly and the clear any doubts or guesswork you may have regarding the process. Of course, you will have to pay attorney fees but since you don't want to risk getting your application rejected, your money won't get wasted.