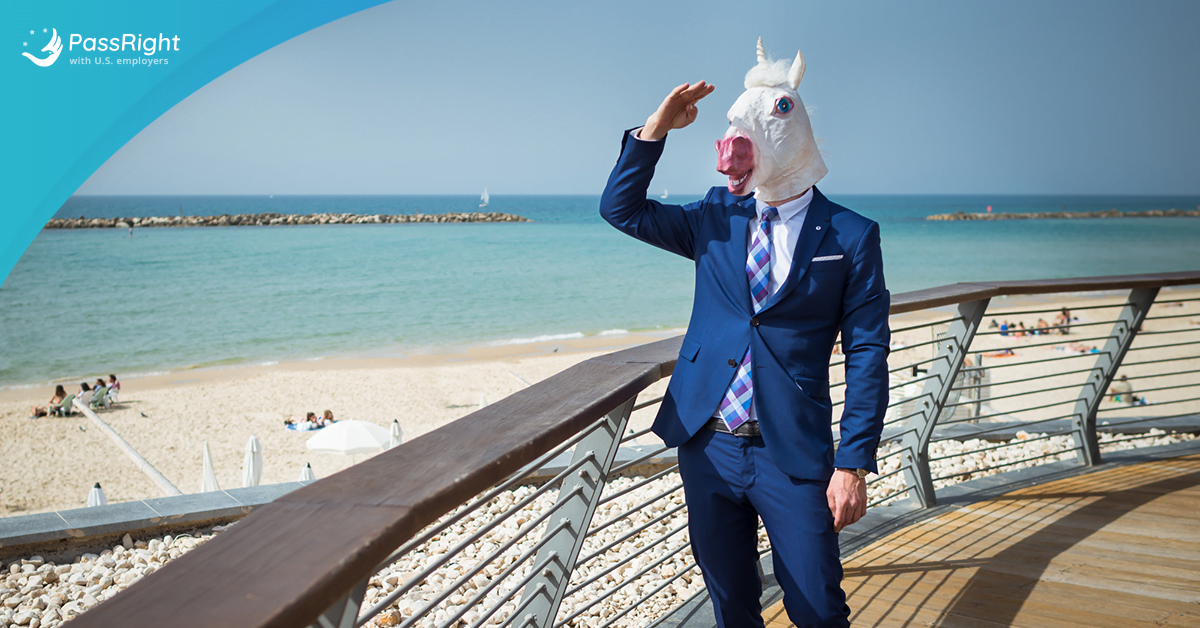 PassRight has helped hundreds of founders obtain the O-1 Visa or even the EB-1 or EB-2 Green Card. This page shows some of our founder testimonials. Foreign founders understand foreign founders and are open to sharing their experience with PassRight and the overall relocation journey.
My name is Bartosz Wawrzyszak, co-founder and CEO of BPRK LLC, Las Vegas based company, owner of Custom Pizza Truck Brand and thanks to the PassRight Team I received my O-1A in business category.
I just recently got my O-1 approved (alongside my co-founders) and had a terrific experience with PassRight. Happy to share more if you have any specific q's.
Highly recommend the Passright team! They were instrumental in helping one of our top engineers get his O1 visa and then convert it into a Green Card through the EB1-A. They also sourced another top-notch engineer for us. Icing on the cake was that he was already approved for his O1 which made the process really easy for both us and our new hire!
My name is Kaushik Mani, I'm the inventor of the "Amazon Key". The device I invented is used by thousands of Amazon drivers to deliver packages on time and reliably. It is installed in over 30,000 buildings across the US in more than 50 cities.
My project has created more than 500 jobs in the US. Today I got my EB-1 Green Card approved with the help of a boutique firm "PassRight" I approached PassRight after other immigration legal teams told me that my EB-1 case is not viable.
If it wasn't for PassRight I would have been stuck with H1B and worried every day for the future of my life in the United States, and especially now due to new regulations being passed. This is why I say you guys changed my life. Aside of the outcome, the experience I had with the legal team of PassRight was impeccable.
I just wanted to thank you for building a great company. You guys got my O-1 approved, and I'm infinitely grateful for that. Great team and processes.
PassRight legal team has done impeccable work on my O-1 visa petition which was approved. PassRight connected me with an agency that sponsored my visa and thanks to an introduction by Liran Rosenfeld, the CEO of PassRight, I'm currently working at a company I love. I'm recommending PassRight and Liran Rosenfeld to anyone seeking help with relocation to the US
An Immigration team with excellent professionalism and dedication who successfully got my O-1A visa sponsored and approved! From the bottom of my heart, I can say that Liran Jakob Rosenfeld and Joanna Bobel, along with the entire PassRighthashtag immigrants team, are some of the most dedicated, compassionate, talented people I have had the pleasure to work with.
My O-1 Visa approved with PassRight. The visa evaluation was smooth, they worked with me for 10 weeks and nailed it. The service was impeccable. I heard about PassRight from close friends who had positive experiences and now I'm recommending PassRight to my friends. The best thing about these guys that they care. Unlike other industry lawyers the PassRight crew is mindful enthusiastic and think outside of the box.
I received my O-1 Visa as a Software Engineer last year through PassRight and later EB-1. Liran and the team are super professional. Unlike many immigration lawyers, they truly care about your case. They will be transparent with you throughout the process ensuring your case will reach its full potential to get approved. For such an important step in your life, I highly recommend PassRight. They will get you the results you have dreamed of!
Highly recommended! My wife and I recently relocated to the U.S. and we couldn't have done it without the help of PassRight. They helped us find the most suitable type of visa, paired us with the best immigration lawyers, and walked us through the entire process end-to-end. The entire experience was extraordinary! I've already recommended the service to several of my friends. If you ever consider relocating to the U.S., I highly recommend that you do it with the help of PassRight!
Can't say enough about Liran's professionalism & quality of work. He's one of this unique individual who actually under-promise and over-deliver. His team did a truly fantastic job and helped me nail my O-1 petition in a few months. Keep up with the amazing work.
The U.S. government has just approved my O-1 Visa.

Several months of hard work, with more than 1200 pages in the final case, and luckily I am proved to be a talented person and get the right to stay full-time in the U.S. and focus on business development.

I would never get this approval without qualified support of Joanna Bobel, Anna Ptaszynska, and Liran Jakob Rosenfeld from PassRight – the company which was working very hard on my case and proved that they are the people any startup founder can trust.
I got my O-1 visa thanks to Passright. The service is super fast and not expensive, I was impressed! I met Liran during the application process and took offices in the same co-working. He is a great CEO, a workaholic, and constantly motivating his team!
I love the O-1 Visa Company (PassRight) for helping me get my O-1 Visa. Sharing the love to my co-founder and colleague Liran Rosenfeld for helping talented founders/immigrants with coming to the U.S.
PassRight helped me evaluate the best path to get my Green Card with the EB-2 program. The attorney they connected me with was excellent and also the overall experience. Today I have my Green Card. Highly recommended.
I got my O-1 Visa approved with PassRight and Liran & Martyna were there to help me. They had contributed to my personal branding, my work visa efforts and I'm grateful for their help. Recommending them to any foreign founder seeking advice, PR and help with relocation and job search!!
Thanks, PassRight! Got my O-1 Visa approved with this incredible team. Happy I chose them vs a traditional immigration dinosaur 🦖 . The service was mindful and their team worked hard to make it work. Cudos to Liran Jakob Rosenfeld, Joanna Bobel and Denise McGettrick.
For any Global Founders who are looking for a US Visa – I'd highly recommend PassRight. Liran Jakob Rosenfeld and his team helped me get my O-1 Visa this year.
Got my O-1 Visa approved with PassRight. It's about price, trust, and speed. PassRight had a good price and Joanna was super quick to set up the call, Piotr is extremely organized and works very hard.
Passright helped one of my team applied for his H-1B visa transfer and the service is outstanding. We will continue to use Passright for the Green Card Application. I believe Liran and his team are trying their best to make a difference. As a founder myself, I trust Liran and respect his hard work and entrepreneurship. As a customer of Passright, I am very satisfied with the service and will recommend them to my friends and families. Thanks and keep up the good work!
It has a real breeze to use PassRight to get my O-1 visa!
I got my O-1 Visa approved with the help of PassRight!!! Yay!
The team of PassRight worked fast and efficient. First I had a preliminary call with the Customer Service after I had a call with the Attorney who assessed my case and gave a green light to get the ball rolling. I had a call with the team almost every week since then till the moment I got my approval.
Overall the process took around 4 months, pls note I went for the acceleration process offered by the US Immigration otherwise it takes longer. I was applying when I was outside of the US, out of Hong Kong.
Guys, please still bear in mind that it's in your interest to make sure that all your information and other small details are in place. PassRight team did a great job in terms of structuring and leading you in general throughout the process but you are the only one who gives the angle and gives the specifics like your achievements and people to contact to be your recommenders.
PassRight team was very responsive if I have any questions or concern, they even help to prep to the final interview at US consulate (pls note that it costs extra). I would use its services again for sure!
It was a great pleasure working with Liran and his PassRight for my O-1b Visa, we made it within 3 months. PassRight is the best company specializing in offering immigration service that I have seen, they have a great team who are extremely skilled, organized, efficient and responsive. And they charge a very friendly and reasonable price comparing with others. I highly recommend PassRight to people who need immigration service. Liran has a great entrepreneur's spirit, and his PassRight has benefited a lot of high-ended people with their awesome service.
I received my O-1 Visa to the United States thanks to the wonderful team of PassRight in the possession of Liran and Dennis. Throughout the process, they have shown a very high level of professionalism, reliability, and willingness to serve above and beyond. Everything they said happened exactly and thanks to the professionalism of their staff I received the visa in less than three months. Highly recommend! A serious and quality company!
"To all my non-US friends! Want to come over and work at amazing companies in Silicon Valley (or anywhere else in the US) but are worried about the VISA? Well, I found a solution: PassRight is an amazing company that will help you get an O-1 Visa."
"So… I just got my O-1 US visa approval! A few months ago I reached to Liran Jakob Rosenfeld and the PassRight team and Boy oh boy, that was a great decision!"
Doing business in the United States as an international person can bring some extra obstacles. PassRight really helped the make the immigration process run smoothly, and at a better price than other services we had found.
I am very satisfied with using PassRight's service to prepare my visa. All their team carefully listened to my concerns as I have a specific and tight timeline. They are very responsive and always follow up on all of my questions to ensure that I am in good condition. I highly recommend PassRight!
"Very grateful fo Denise McGettrick of PassRight for helping me get my O-1 visa (individual with extraordinary ability) approved. And thank you so much, everyone, who supported me through this journey. "
I was lucky enough to meet Passright after having a terrible experience with a US-based firm. PR took a grueling process and made it easy. It's important to say, that you will feel like you have a true partner for this journey, a super professional on your side.
PassRight has truly been a great help. Extremely valuable to a green card petition. Def worth your consideration as you navigate through the process, I've recommended PassRight to several developers I work with, they were grateful for the recommendation.
I'm so happy to have had Denise as my immigration lawyer that helped me get my O-1 Visa – she impressed me with her knowledge on Venture Capital and tech startups, which is why I can highly, highly recommend her especially to anyone from the VC and startup/entrepreneurship space. She was a pleasure to work with: always available, highly knowledgeable, detail-oriented and a positive, can-do attitude. Thank you again for all your hard work and support!
These guys are amazing. They helped me get my O-1 visa for extraordinary abilities, which is difficult to get. The entire process I felt I'm in good hands and my chances of getting the visa are good.
I had a fantastic experience working with the PassRight team. They were very professional and helped me navigate the entire O-1 visa application process smoothly. They were fast to respond to all my questions during the visa application process. I am grateful to them for providing me the opportunity to pursue my dream of entrepreneurship in this great country.
PassRight is the best company for people seeking immigration help. I had a really bad experience with the immigration lawyers until I discovered PassRight. It makes the whole immigration process less stressful and you work only with top-notch lawyers and people that really care about your case. Totally recommended to everyone dealing with immigration matters!
Super professional team, not trying to "sell" you anything, just to help out. They made all the bureaucracy easy and smooth. Not like any other attorney I've ever work with, 5 stars!!!
I had the pleasure of working with Liran during my O-1 application. He actually helped me twice since I needed to apply again with a new employer. First, he helped to find an awesome and very professional lawyer through Shop Immigration and later, he helped with a more economic but super professional lawyer who really meets my needs. Liran is helpful, knowledgeable and efficient; I will recommend him to anyone looking for help regarding immigration visa applications.
I met Liran first time at Mucker Lab, in Santa Monica, where we connected as founders. We both spent many long hours in the same office, developing our companies and with little sunlight. The consistency and creativity Liran projected on me, and some members of my team were remarkable. Liran is a smart and hard worker. I adore the passion and genuine interest he takes with his clients and colleagues. I was both. I'm endorsing Liran and PassRight today for the wonderful I got from them. My colleagues and my company are grateful for this relationship. Liran helped us get on the most fantastic press; he helped us with content writing and storytelling and was always available to connect with us reasonably fast. Liran also provided more work product than we agreed on. That has left me with great taste. Although Liran's PR services aren't cheap, they were more valuable than we thought.
Few days after Tristan Ptit I get my O-1 Visa also approved! Visas are always a burden, hopefully, this time I made it with PassRight! It makes all the process easier!

Special big up to Liran the CEO of PassRight, for his pieces of advice, his concern and to put his skin in the game to make all of this happen!
I received my O-1 visa is 32 days after my first call with PassRight. We did a premium processing and an urgent application. It worked.
The best thing about PassRight is that they are extremely kind and an understanding of a bunch of people. They always make you feel well looked after. And they know how to get the job done 🙂
Amazing service from PassRight. Got my O-1 approved. Thanks to PassRight. Quick, straightforward and quick responses.
Without PassRight I was not gonna get my O-1 visa for the US. Thanks to their business model they provide a high-quality service at a cheap price. They are also always available and ready to help. If they say there are chances for you to get the visa, trust them and rely on their services. They are life-changing! Thanks to the whole team!
I am completely satisfied with Liran and the team with my EB11 filing. They are very thorough professionals, who guided me through each and every step. Very patient and always available for any clarification. I would recommend the PassRight team for anyone who is looking for immigration services.
Excellence service. These guys saved my money and a lot of effort in getting my needs. Love it.
I got my O-1 visa approved with PassRight and been recommending their services ever since.
Recently, I got an O-1 visa with the help of them. They are very kind, professional and relatively cheaper than other services. I can recommend them with confidence. I believe they can maximize to express your extraordinary abilities.
Passright helped me to apply for the O1 and I can guarantee that the service they offer is astonishing. I believe Liran and his team are helping a lot in filling the existing gap between the high demand of skilled talent and the resources shortage in the United States. At the same time, they are making the US Immigration affordable to everyone.
"Thank you PassRight for taking me on a journey with you. The process of obtaining my O-1 visa made me re-evaluate my life, during that time, I realized the large scope of my achievements and skill set."