Attention foreign talents, today you can hire a professional immigration attorney without paying for legal fees or government fees or even worry about a sponsor. PassRight – a San Francisco based startup that's also known as The "O-1 Visa Company, "is offering to finance your entire immigration costs, if you qualify. Once the visa is obtained, PassRight will help you find a job.
In return, PassRight will ask you to pay back 17% of your salary for a period of 2 years (Capped at $30,000) and only if you get a job. If you stop working/lose your job, you'll stop paying.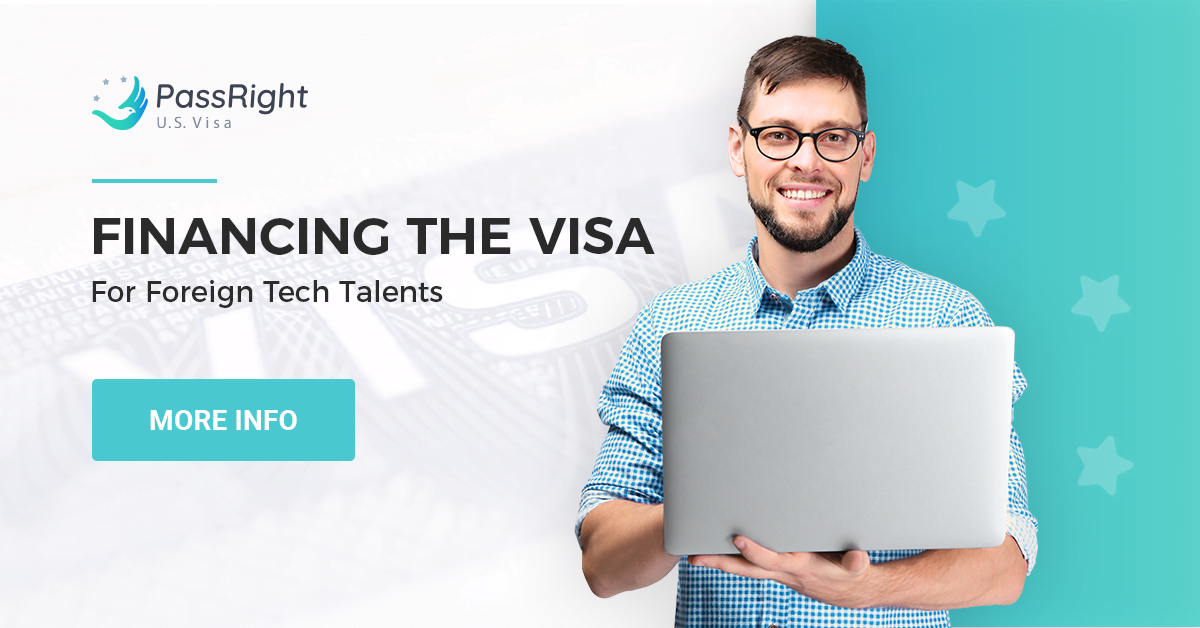 A diversified workplace is a real goal for leaders at big American corporations. However, Silicon Valley is facing a shortage of foreign tech talents, so notable, that at any given day, there are over 10,000 open positions just for full stack software engineers and many other positions for other STEM professions. Those available positions are within a 50 miles radius.
According to PassRight's C.E.O Liran Jakob Rosenfeld, the solution is not to just to educate more engineers or work in remote, but to bring the top talent from the around the globe to Silicon Valley. According to Rosenfeld, the hefty size of the problem is also the size of the opportunity.

Why the O-1 Visa is considered the right path for talented immigrants?
The O-1 is a visa is aimed at people with extraordinary ability. In order to qualify for an O-1 visa, an applicant has to meet the US government's highest criteria for extraordinary abilities including three criteria from the following list:

Receipt of nationally or internationally recognized prizes or awards for excellence in the field of endeavor
Membership in associations in the field for which classification is sought which require outstanding achievements, as judged by recognized national or international experts in the field
Published material in professional or major trade publications, newspapers or other major media about the beneficiary and the beneficiary's work in the field for which classification is sought
Original scientific, scholarly, or business-related contributions of major significance in the field
Authorship of scholarly articles in professional journals or other major media in the field for which classification is sought
A high salary or other remuneration for services as evidenced by contracts or other reliable evidence
Participation on a panel, or individually, as a judge of the work of others in the same or in a field of specialization allied to that field for which classification is sought
Employment in a critical or essential capacity for organizations and establishments that have a distinguished reputation
According to Trumps's latest Tweet on US Immigration – he is all forward to bring foreign talent to the United States.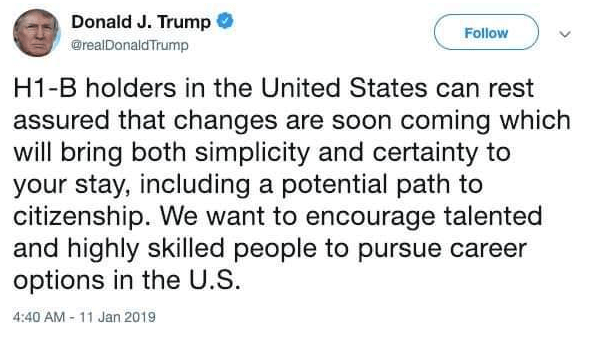 Why is now the best time for engineers to immigrate to the United States?
The current economy is booming for engineers. Data from the Bureau of Labor Statistics projects that 1.4 million positions will be open in computing. With only 400,000 computer science grads being produced, an estimated 1 million technology jobs will go unfilled by 2020. The average annual salary for a mid-Senior Software Engineer in the San Francisco Bay Area is at $140,000. However, most companies in the Bay Area, pay larger sums to those who have extreme talent.
Talented and qualified engineers from around the world are eager to join the Silicon Valley workforce. Due to daunting immigration policies, talented immigrants think now isn't the right time to move to the US. However, according to Rosenfeld, "the opposite is true. Now is the best time to immigrate to the US."
Underneath the surface, The O-1 Visa program has continued to grow because even the current administration is eager to bring the very best foreign talents to this country.
New Business Model for Talented Immigrants
Extreme talent is divided evenly around the world, however, in Silicon Valley, the best salaries are given. For this reason, PassRight is using "Income Sharing Agreement" (I.S.A.) with it's new financing model. PassRight is planning to help the most talented immigrants establish a career in the US without the need to risk their life savings or necessity to get loans.
PassRight offers four options to mid-senior level foreign engineers:
Pay 17% of your salary for a period of 2 years, if you get a job (Capped at $30,000)
$13,000 package – pay upfront.
$15,000 in one payment right after your visa is approved.
$20,000 in 8 even payments starting the date your visa is approved.
During 2018, PassRight has helped 124 foreign talents obtain the O-1 visa. Its success rate has been 98%. At the same time, PassRight also rejected thousands of applicants who did not qualify. PassRight is a technology pioneer and the first company that has created an O-1 visa software.
The online O-1 Visa screening is offered to anyone for free. Once the applicant passes the automated O-1 visa screening, she/he is asked to upload documents such as their resume/cv and other materials used as evidence to support the affiliated O-1 visa law firm PassRight works with. Once the law firm is convinced that an applicant is fully qualified, the visa petition efforts start.
In average, it takes 2.5 months to process an O-1 visa petition.
The O-1 visa requires a sponsor and through PassRight's service, a talent agency is offering to sign the sponsorship forms with an itinerary that includes potential job offers from top employers in Silicon Valley.
Dejan Petreski, a talented engineer from Macedonia met Liran Rosenfeld on a trip to Israel a few weeks ago. Both have been working in remote for a year and finally decided to meet. According to Liran Rosenfeld, Dejan and PassRight have been eager to bring Dejan to the US for quite a while, however, we are waiting for Dejan to fully qualify for the O-1 Visa and once he reaches the qualification needed, we plan to bring him to work in our office. Rosenfeld mentions: Working in remote is nice but the real value starts when a team is all together at the same physical place.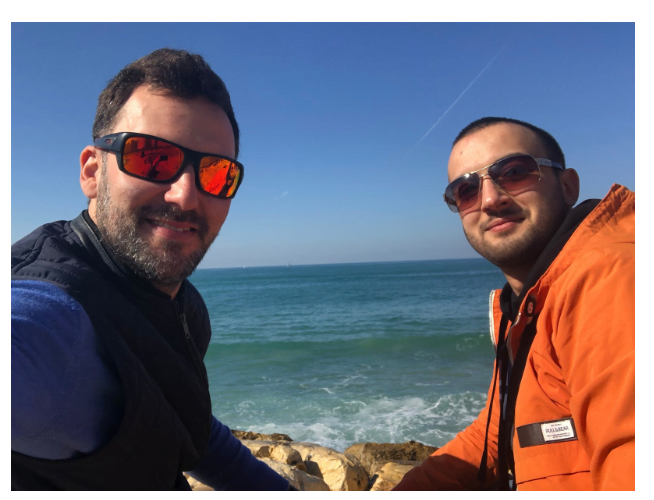 According to Dejan Petreski, In Macedonia, a senior software engineer earns up to $30,000 a year and at the same time Skopje Macedonia capital is considered one of the most polluted cities in the world, due to industrial emissions, smoke from wood-burning stoves and exhaust fumes from old cars. For an engineer like Dejan, moving to the US is a great opportunity for better life quality, culture, and financial freedom. Other talented engineers are trapped in war zones like Ukraine, Russia, Yemen, and Syria. With the growth of woman engineers, there are many countries (like Saudi Arabia) where woman are being treated unequally and even horrendously. For these women, the United States continues to stand as a beacon of hope. At PassRight we are aiming to bring these talented people to the US and have them fit in and contribute not only to a diversified workplace but to the American economy.
Liran quotes: At PassRight, we don't care where you come from but where you're going.
If you are interested in applying for the O-1 Visa, contact us.