President Trump has been slamming laws that are making it more and more difficult for tech companies in the United States to find the right employees, forcing many of them to outsource the work to other countries.
The huge void in tech talents and the need to outsource the work to other parts of the world is actually causing huge damage to the US economy.
At PassRight we care. We do think outside of the box!
And we have developed a way to help our clients successfully apply for the O-1 Visa in the safest and the most hassle-free manner possible.
Before you apply for the O-1 Visa it is important for you to understand a few things about the whole application process and the things that generally go wrong:
Most immigration lawyers don't have the patience to work on a petition as the time and effort it takes to put together a high-quality petition is not worth the cost. So, they hire a bunch of right-out-of school paralegals, who have no experience in preparing an O-1 Visa petition.
One paralegal may at a time handle over a dozen cases, which means they are prone to making a lot of sloppy mistakes that could land you in hot soup with the USCIS.
Due to a large number of clients these paralegals handle at a time and the extreme work pressure they are under there is a high rate of turnover and your case file could be passed around from one paralegal to another without any work being done on it. This not only slows down your application process but also could be the reason for the petition not being put together carefully and in a structured manner.
How Are We Different From Other O-1 Visa Consultants?
At 'the O-1 Visa company,' we have hired a team of highly qualified legal specialists who work closely with our immigration attorney and the applicant to create an extraordinary petition.
Since we believe in quality and not quantity, our legal specialists only handle about three to five cases at a time. This gives them enough time to prepare the petition while being in constant contact with the applicant. "We need to understand that the compilation of an O-1 Visa petition is a complicated process and requires an organized structure that entails preparation in advance and mindfulness throughout the journey," says Liran Jakob Rosenfeld, the founder and CEO of PassRight.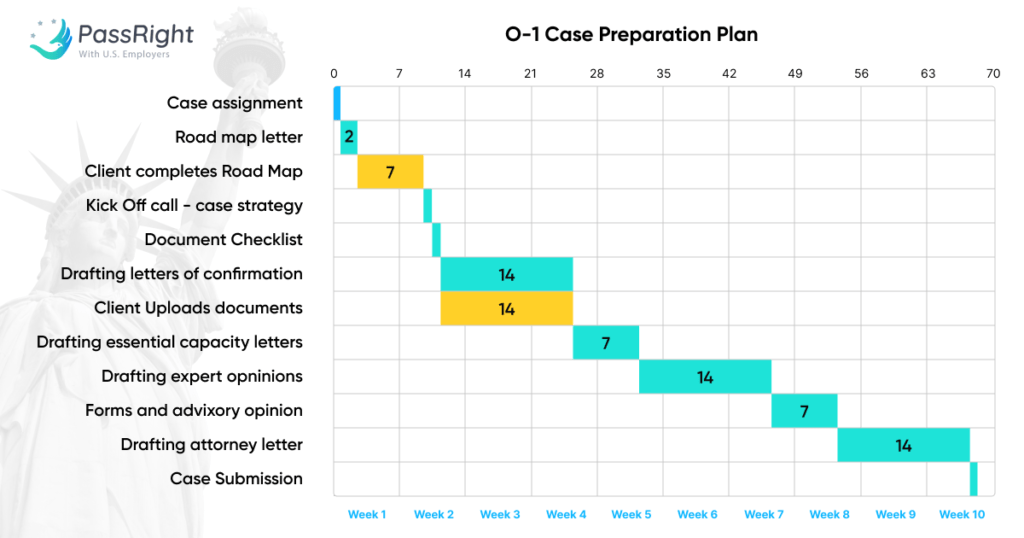 According to him, service providers need to be able to answer client queries at each step of the way. This is why we prepare an O-1 Visa road map for each of our clients. The roadmap varies from client to client and is tailor made to suit a particular applicant.
What Does the O-1 Visa Application Process Look Like at PassRight?
We work with an acclaimed immigration attorney who signs the petition and is part of the strategy sessions. Once a strategy is formed, our legal specialists in Poland work closely with the applicants to develop and build the petition.
They guide them in different matters related to the case, providing them with information on the kind of evidence they need to collect and the letters of opinion that need to be written.
Here are the reasons why PassRight has had a 98 percent approval rate with O-1 Visas for over two years now:
We pay very close attention to detail during the O-1 Visa evaluation process.
We don't just pick anyone to be our client, you need to pass our free online O-1 Visa evaluation.
We make sure we succeed with our clients.
We offer an O-1 Visa guidance program for candidates who do not qualify and help them develop their profiles and work on obtaining the right evidence to qualify.
Before an O-1 petition is submitted by PassRight team we have an external counsel review the case.
We run a talent agency that offers O-1 Visa sponsorship.
We help with PR, which plays an important role in strengthening your petition.
We help our candidates find jobs and connect with startups and other companies.
We offer financing and relocation support for qualified O-1 candidates.
PassRight is a community of people interconnected with the same goals who are helping each other.
Contact us:
Error: Contact form not found.