I am proud to present a new business model for talented immigrants!
Extreme talent can be found around the world, however, the best salaries are in Silicon Valley. For this reason, PassRight is helping the most talented immigrants establish a career in the US without the need to risk their life savings or go through the hassle of getting a loan.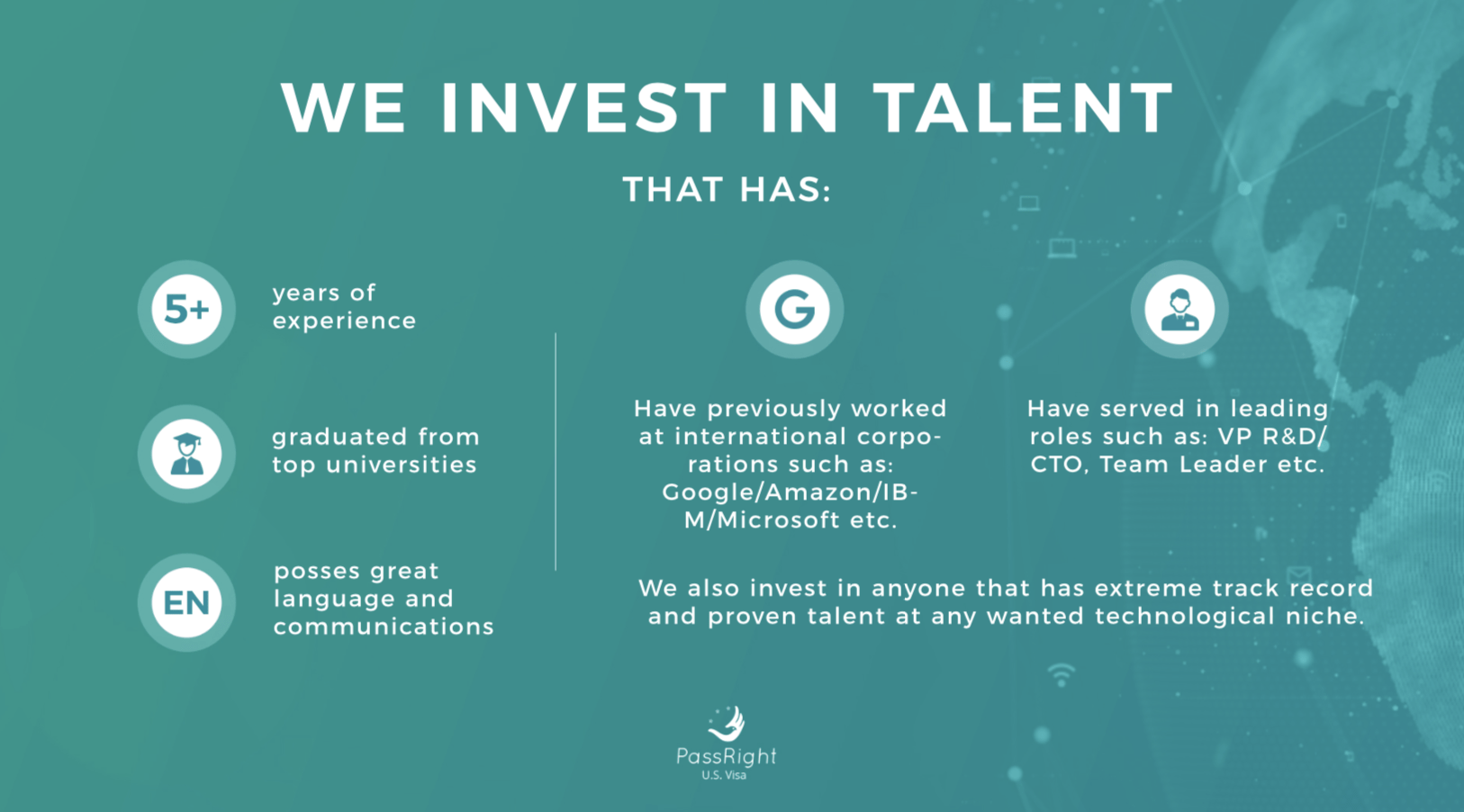 The Economy Requires Technical Foreign Talent

10,238 – that's how many full-stack software engineering positions are advertised on Linkedin right now for mid to senior level software engineers. And that's just in the Bay Area. Shortage of technical talent has been one of the major pain points for companies, large and small.
The solution for tech shortage is not to just to educate more engineers or work remotely but to bring top talent from around the globe to Silicon Valley.

Attention foreign talents: today you can hire a professional immigration attorney without paying for legal fees or government fees or even worry about a sponsor"
There is absolutely no doubt that the current economy is booming for engineers. The average annual salary for a Senior Software Engineer in the San Francisco Bay Area is around $140,000 (While in eastern Europe it's $30,000) Talented and qualified engineers from around the world are eager to join the Silicon Valley workforce but are often restricted by the daunting limitations of a work visa.
Well, not anymore. The "O-1 Visa Company" is solving this problem in a very unique way. PassRight, together with its immigration law firm, is now financing the costs of the entire immigration process including legal fees, government fees and with its exclusive talent agency, sponsorship isn't an issue anymore.

In return,PassRight will ask you to pay back 17% of your monthly salary for a period of 1-2 years (Capped at $30,000)
PassRight has developed proprietary software that helps automate the visa screening, qualification, and processing for the O-1 talent visa. The O-1 is a visa for people with expertise and achievements in their field.
Companies always favor applicants who are already eligible to work in the US. Because of that, many potential candidates simply miss out. What we want to do is make sure the best companies in the Bay Area get access to the best tech talent from around the world, while we take care of everything else.
What is the O-1 visa criteria?

For a long time, the H-1B has been the only popular choice for employers and employees. But we see the O-1 visa is a better option, especially for talented professionals. In order to qualify for an O-1 visa, an applicant has to meet the US government's highest criteria for extraordinary abilities including awards, industry recognition, and top leadership roles at previous organizations. The government actually wants such talented people to come into the US and help contribute to economic growth.

O-1 visa processing time
The O-1 visa, unlike the H-1B, does not rely on a lottery system. Successful applicants get a three-year visa and can start working as soon as they are approved. The O-1 visa can be processed in as little as 15 working days and can be extended for as long as required.