How tech Talents Obtain a U.S. Work Visa
PassRight is a platform that offers a unique solution to foreign talent interested in obtaining a work visa + sponsorship.
Go through the screening process for the O-1 Visa. (Free!)
Work on our visa software to build your O-1 petition. (If you are eligible - it's completely free)
Submit your case for review with our law firm.
Our talent agency will sign the sponsorship petition for you.
Once your O-1 visa is approved, you can apply for any job within the USA.
Our talent agency will connect you with potential employers (Not a guarantee for a job)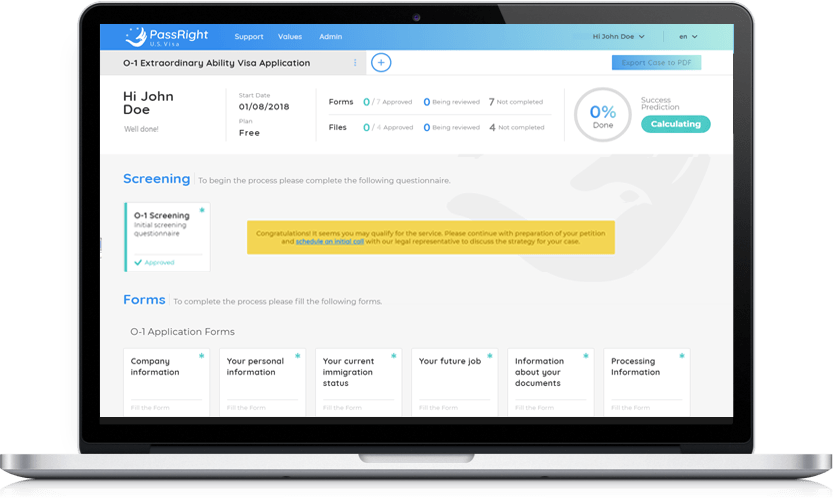 PassRight Finance The Visa Cost of Foreign Talent (optional)
PassRight can finance your entire cost for the visa, goverment fees and sponsorship!

Our financing offer includes:
Free visa screening to see if you qualify. You'll need to go through two easy steps:

Automated screening
Phone screening

Start the visa process by uploading your documents on our secured platform. Your information stays safe and private!

While you negotiate for jobs, we'll handle your visa, sponsorship and we'll even pay for it.
This is how we do it:
We'll take a small % of your first year's salary. If your future employer agrees to pay for our costs, you won't have to pay for anything!
Once you passed the screening, we'll evaluate your resume/CV and schedule a call with you and our law firm to get started. You'll receive a general agreement stating the deal.
Are you a foreign, talented, senior software engineer? Over 10,000 open jobs are waiting for you in Bay Area. You're expected to earn $140,000 - $180,000 as your starting yearly salary. We'll deduct from your first year salary $20,000 in equal payments.
Why PassRight?
US tech jobs pay better than anywhere else in the world. Read Why.
There is a huge shortage of qualified engineers for these jobs. Read About It.
US employers won't hire you without already having the visa because the only common way for employers to get you a visa is through the H-1B program. However, the H-1B is extremely unreliable and lengthy process. As a result, few companies are inclined to invest in this process.
The alternative to H-1B is the O-1 visa which is extremely complicated and still requires a sponsor. PassRight has solved this issue by developing user-friendly technology that streamlines the O-1 application, eliminating common errors and increase the likelihood of success. Through our software, you can build your case and get connected directly with our exclusive legal team. The missing ingredient is the Sponsorship. PassRight has solved this as well by creating its own affiliate talent agency that sponsors your application while you are negotiating with potential employers prior to obtaining the job. The talent agency will also connect you with potential employers and open jobs.